WHAT ARE METAL BRACES?
Metal braces are wire-based appliances that orthodontists use to correct misaligned teeth or jaws to produce an even bite and pleasing smile. Patients struggling with crowded or gapped teeth may be suitable candidates for braces. Traditional braces are made of metal, but some are ceramic or plastic-based. All are designed to be a comfortable solution for patients looking to straighten their teeth for the smile of their dreams.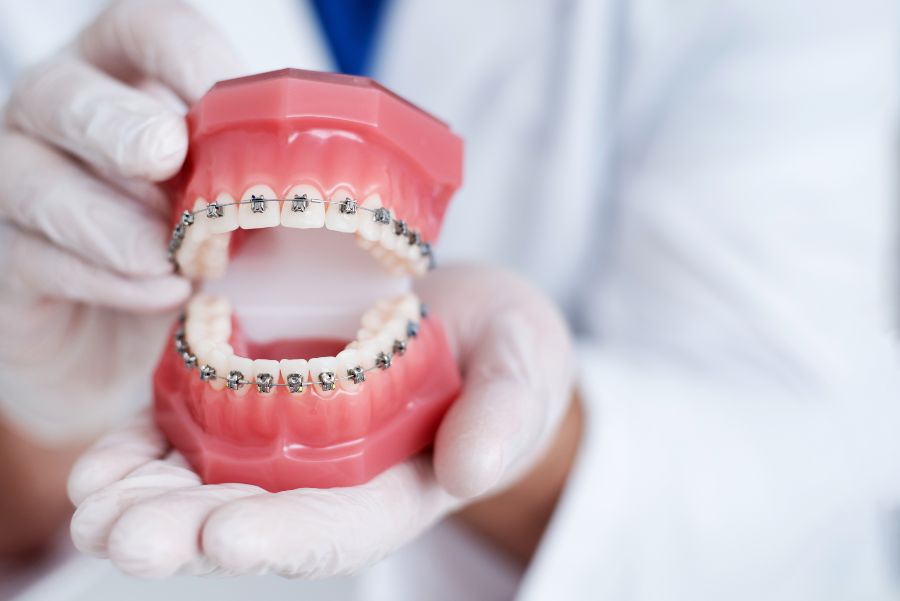 DID YOU KNOW…
The wires used for metal braces were invented by NASA.
HOW IT WORKS: THE METAL BRACES PROCESS
CONSULTATION
At your consultation, your orthodontist will determine if metal braces are right for you. First, your orthodontist will examine your jaw, gums, and teeth to check for gaps, crowding, and misalignment. They will also discuss your smile goals and develop a treatment plan made just for you.

IMPRESSIONS AND DIGITAL IMAGING
Your orthodontist will then take a series of X-rays of your mouth as well as a mold of your teeth, known as an impression. Your orthodontist may make adjustments to ensure your teeth are properly aligning on the mold. Once this is complete, your orthodontist will use the data gathered from the images and impressions to create your metal braces.

BONDING
To secure your metal braces, your orthodontist will dry and prepare your teeth to make the tooth surface ideal for bonding. Next, the braces will be attached to your teeth using a special adhesive and curing light to set the bond. Your orthodontist will then thread the metal wire through the brackets and hold it in place with ligature bands.

FITTING AND NEXT STEPS
Once your braces are securely placed, your orthodontist will check for proper fitting to ensure maximum comfort. You'll schedule a follow-up appointment with your orthodontist every 4-8 weeks to monitor progress, replace bands, and swap out the metal archwire for a new set. During these checkups, you can select new colors to let your smile shine in style.

REMOVAL
On your last day of treatment, your orthodontist will remove the brackets, clean each tooth, and give you a retainer to help your teeth preserve their new positions. Your orthodontist will also equip you with detailed instructions on how to care for your smile so it can stay strong and straight for life.

TYPES OF BRACES
TRADITIONAL
Traditional braces are made of medical-grade stainless steel brackets and archwires that straighten your teeth over time. These popular aligners are oftentimes more affordable than other braces and are best suited for patients experiencing severe tooth and jaw misalignment.
SELF-LIGATING DAMON BRACES
Self-ligating Damon braces appear almost identical to traditional braces, but utilize clips rather than elastic bands to hold the brace wire in place. By using a patented slide mechanism to connect the archwires together, the Damon system allows the wires to move freely without friction. Plus, Damon self-ligating braces eliminate pesky elastic ties, which can enhance your overall oral hygiene. ‍
CERAMIC
Ceramic braces are very similar to the traditional metal braces, but are composed of a translucent ceramic material that matches the natural color of your teeth. Patients looking for a less noticeable alignment option may enjoy the discreet features of ceramic braces.
DID YOU KNOW…
Over 4 million people in the U.S. wear braces to align their smiles.
HAVE QUESTIONS ABOUT BRACES? FIND ANSWERS HERE.
DID YOU KNOW…
Braces aren't just for teens. In fact, 1 in 4 Americans wearing braces are adults.