CLEAR ALIGNER THERAPY IN PLYMOUTH

WHAT IS A CLEAR ALIGNER THERAPY?
Clear aligner therapy is a custom-made clear dental appliance that gradually straightens a patient's smile by applying gentle, consistent pressure to the teeth. Patients struggling with crowded or gapped teeth may be suitable candidates for clear aligner therapy. Because the aligners are made of clear thermoplastic material, clear aligner therapy is a great solution for patients looking to discreetly align their smile.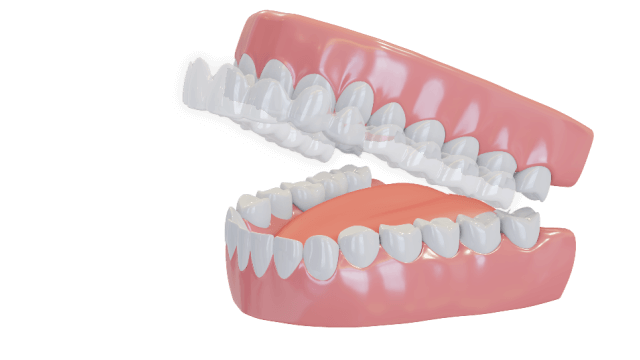 Did you know…
In some cases, clear aligners can provide faster results than traditional braces.
HOW IT WORKS: THE CLEAR ALIGNER THERAPY PROCESS
CONSULTATION
At your consultation, your dentist will determine if clear aligner therapy is right for you. First, your dentist will examine your gum health and teeth to check for gaps and crowding. They will also discuss your smile goals and develop a treatment plan made just for you.

IMPRESSIONS AND DIGITAL IMAGING
Your dentist will then take a series of digital images of your mouth as well as a mold of your teeth, known as an impression. Your dentist may make adjustments to ensure your teeth are properly aligning on the mold. Once this is complete, your dentist will ship the images and impressions to a special laboratory to make your first several sets of clear aligners.

FITTING AND NEXT STEPS
Once your aligners are complete, your dentist will check them to ensure proper fit and alignment. You'll wear each set per the dentist's instructions, usually for 20-22 hours each day, and switch them out every 2 weeks. Every 6 weeks, you'll stop by our office to pick up your next few sets of aligners and so the doctor can check your teeth to make sure they're tracking.

TYPES OF CLEAR ALIGNERS
INVISALIGN
Invisalign aligners are made from a thick, clear, patented plastic material called SmartTrack. Patients that lead an active lifestyle may appreciate Invisalign's sturdy material and durability. Invisalign offers a wide variety of aligners, which can treat mild to severe misalignment cases. Many patients opt for Invisalign as it is the original clear alignment therapy treatment with a long history in discreetly aligning beautiful smiles.
SPARK
Spark is another clear removable aligner solution that can gradually straighten your smile over time. Spark aligners are known for their virtually invisible appearance — many patients find them to be even more clear than Invisalign. Spark uses TruGen™ material which provides a durable, comfortable, and stain-resistant alignment experience.
DID YOU KNOW…
There are no limitations to the foods you can eat while wearing clear aligners.
HAVE QUESTIONS ABOUT CLEAR ALIGNER THERAPY? FIND ANSWERS HERE.
DID YOU KNOW…
Clear aligners are removable and easy to clean.